Is your iPhone or iPad getting slow and you are getting sick off from its processing speed then here is the method to fix the slow problem. If you open any app and it takes too much time to load or safari takes too much time to load even a simple website, it's symptom of slow speed of iPhone. It's very irritating. Specially when you use old model of iPhone or iPad. If we compare new iPhone model with old iPhone model, new iPhone model has more powerful processor than old model. But sometimes, it is not necessary to buy a new model iPhone to eliminate slow speeding.  Usually, it is a software problem in your iPhone or iPad. If it is software problem, we have explained some point to fix slow iPhone or iPad.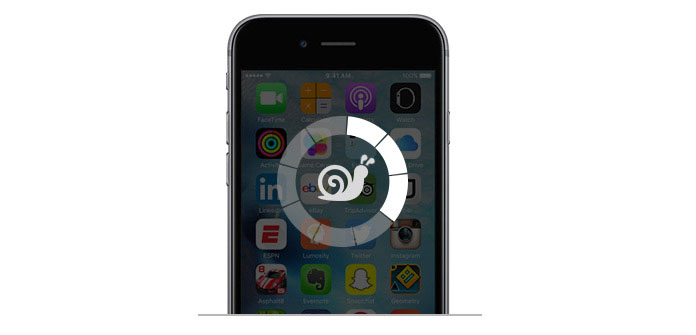 The real Reasons why Your iPhone Is slow
These method will equally work for every iOS device as – iPhone, iPad or iPod. So follow all steps to get rid off from the slow iPhone.
1. Your iPhone is Out of available Storage Space
As you know your iPhone has only limited storage. Some iPhones has storage variety as 16 GB, 32 GB, 64 GB and 128 GB. So It is very important to keep space in your iPhone because the problem take place when you are operating your iPhone with 0 storage space. If you are operating your iPhone with ) storage, it's obvious to get slow any apple device because iPhone need some space to keep the software running smoothly. So if your iPhone or iPad has not enough space, release some space of your iPhone. If you don't know how to check available space in iPhone, follow the following steps.
First of all, go to setting.
Now go to General setting.
Head to about.
Now look at the number to the right of available. If there is more than one GB space, it's not storage problem. Just move on to next method.
2. All Your Apps are loaded in Memory At Once
Do you know what happen when you open all apps at the same time in the iPhone or iPad or mac? Everything slows download because when you open any app, it automatically loaded into the application memory and when you go back to your iPhone or iPad's home screen, the app doesn't close. When you leave any app that app stays loaded into your iPhone's RAM. Every iPhone has, even 6 and 6 plus, one GB RAM. So when an iPhone has lots of apps opened at the same time, it will automatically go slow.
You can close that opened apps by doing double click on iPhone home button. When you double click on button, you will see the multitasking view. By using multitasking view, you can switch to apps and also close the app you want. So close the loaded app.
3. You Need to Update Your Software
Sometimes, the iPhone go slow because your iPhone is not running on it's latest version. So you have to update your software to it's latest version to eliminate this problem. If you don't know how to update your software of an iPhone or iPad, just follow the following steps.
Unlock you iPhone.
Now head to Setting.
Now go to General.
Now go to Software updates.
If there is new software update is available, just install in your iPhone. If your iPhone has updated already, just move on to another step.
4. Turn on your iPhone off and Back on again
If you have tried all steps and all does't fix your problem, try this one. Sometime, your iPhone just want to a refresh start. So just power off your iPhone and power on it. If you don't know how to power off your iPhone, just long press your power button. Your iPhone automatically turn off and after some time just long press to the same button until the apple logo appear. After fresh start, iPhone's speed get faster.
5. Speed up Safari by Clearing Saved Website Data
If Safari is running slow and an simple website more time than you expected, it is because of you have saved lots of website data. It is very normal process if too much data builds up over a long time then often safari starts running slow. So just clear the saved website data of Safari,
To clear Safari Website Data follow the following steps
Just go to Setting.
Now go to safari.
Click on 'Clear History and Website Data'
5. Reset all Setting to Speed Everything Up
It can cure many problem of your iPhone. It can also fix slow iPhone speed. Sometimes, misconfiguration  of any specific app can cause many problem. So if you want to rest all setting and fix the problem, you have to reset all setting. Sometimes, there are many problems in setting and it's too difficult to solve manually. 'Rest all setting' setting will solve all problem at once.
To Reset all setting just follow the following steps
Go to setting.
Now go to General.
Now just go to reset and tap on reset all setting.
It will restore your iPhone back to its factory default setting. It will almost solve every problem of your iPhone related to software. If you have any question related to this article and iPhone, just comment in comment box.